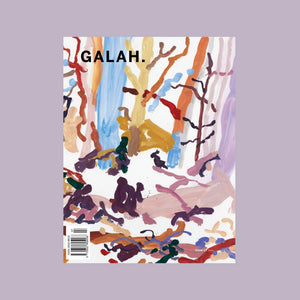 Galah Issue 6
The voice of regional Australia.
Galah is an independent print magazine documenting regional Australia and the people who live here. Regional Australia has so much more going on than droughts, floods and fires. Let Galah be your guide.
Galah Issue 07 is a big 176 pages that you can slowly devour over the cooler months. It's full of beautiful images and fascinating stories from regional Australia, all centred around this issue's theme of 'Love'.
Here's a sneak peek of what you'll find in Issue 07 where we:
Talk regenerative farming with Rachel Ward: actor, director, cattle grower

Remember actor and activist Uncle Jack Charles

Split the family farm with Gabrielle Chan

Chat with farmers rewiring their power grids – together

Pull up a seat at country pubs making a difference

Eavesdrop on the farmyard love stories of chef Annie Smithers

Follow a pilgrim's trail linking Western Australia's boldly modernist churches

Absorb the botanical wisdom of a veteran gardener

Forage for mushrooms with a mycophile

Celebrate the late-life legacy of colonial artist John Glover

Hang out with artists on the east and west coasts

Sit down to a long lunch with Belinda Jeffery